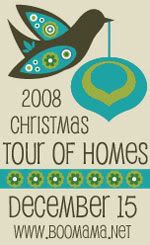 BooMama is having a Christmas Tour of Homes. So...welcome to my home! Its not as fancy and most of the homes I've seen today but it suits us just fine! At least until the boys move out...then we can have nice things again! Anyways, please leave me a comment letting my know you've stopped by!

Here is my tree, decorated with mostly homemade ornaments (my favorite kind)...
Here are the stockings I made for $1 a piece...
Here is my favorite "Nativity" scene...

Here are the window sticky snowflake things we made...
Here is my Christmas Tree card holder that I got at a garage sale last year...
Here is our collection of Christmas books, we try and read one everyday in December until Christmas day...



And here is my house, decorated beautifully by my good lookin' husband!
That's all folks!
Thank you so much for stopping by!