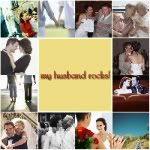 My husband rocks because 90% of the time
my husband will come home on his lunch break and make me lunch!
I make stuff like pb & j sandwiches, chicken nuggets and corn dogs for the boys to eat for lunch and I don't eat any of that so Kyle will come home and make us something yummy!
He also cooks about 75% of the dinners around here.
I HATE to cook and I am not good at it either.
He LOVES to cook and is really good at it.
So it works for us!
This is what he made for us on Wednesday night:
(I don't know why I put the fork upside down... I guess I was just rushing so I could hurry and get the picture done and eat!)
You can find more rockin' husbands at The Great Adventure!